This is a Sponsored post written by me on behalf of ZzzQuil for SocialSpark. All opinions are 100% mine.
Most of my adult life I have had horrible problems sleeping.  I can be EXHAUSTED, not able to keep my eyes open, but once I get into bed, BOOM WIDE AWAKE! Or, my most recent sleep problem, I fall into a deep, deep sleep for about an hour or two and then wake up (around midnight) WIDE AWAKE and unable to go back to sleep.  I don't know why, and I've tried everything from over the counter sleep aids to prescription medications that had me sleep shopping...yes, I would shop from my phone in the middle of the night and have no recollection of it until a package arrived at my door. CA-RAZY! (THAT was an expensive prescription! HA).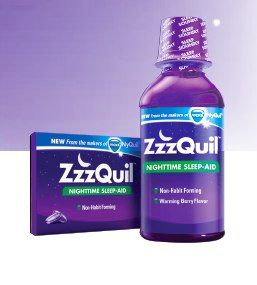 So you can imagine my eagerness when I was offered the opportunity to try the new ZzzQuil from the makers of Vicks Nyquil! It looks and taste similar to Nyquil, but doesn't have all of the cold ingredients, it's only for helping you sleep! The first night I tried ZzzQuil I waited until the weekend, because I sometimes have a hard time waking up the next day after taking a sleep aid and I hate that groggy "hung over" feeling you can sometimes get.  But, that didn't happen with the ZzzQuil! I woke up feeling well rested and not groggy at all! I LOVE that! 
I have since used ZzzQuil several times when I want to get a really good night's rest and I just love it! I will definately be buying more! I tried the liquid version, but I think I'd like to try the pill version, I'm not a big fan of the taste of the liquid, tastes too much like cold medicine for me. 
Want to learn more about ZzzQuil? Like them on Facebook, check them out on Twitter and visit their website ZzzQuil. Make sure to include #ZzzQuilNight to be included in the conversation!